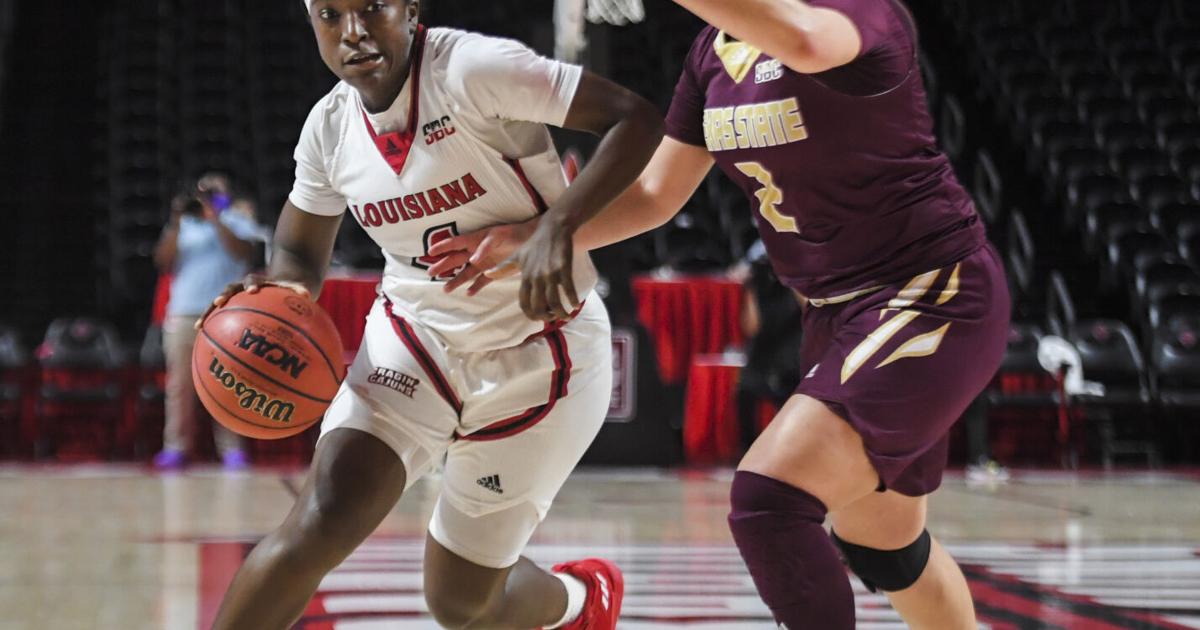 Wheaton, Johnson punch in UL Sun Belt's first win of season | UL Ragin 'Cajuns
It didn't seem like the right time for a high scoring game for the UL Ragin 'Cajuns women's basketball team.
Either way, the freshman duo of Tamera Johnson and Lanay Wheaton pulled it off by combining 51 points in a 78-72 victory over Texas State on Saturday at the Cajundome.
"I thought Tamera and Lanay were more aggressive," said UL coach Garry Brodhead. "We were on them to be more aggressive on the offensive side. Ty was awesome as a lure. Ty is on the tracing report, so they want to double down on her and that still kind of opens everyone up.
That aggressive approach was certainly needed that day for the Cajuns, who are now 9-3, 1-1 heading into Thursday's road game against Arkansas State.
Since the bad news that top scorer Brandi Williams has been lost for the season due to a knee injury, finding out where the points for UL's women's basketball team would come from is leading the list of priorities.
Even tougher on Saturday, Sun Belt preseason player of the year Ty'Reona Doucet was held back by illness and another huge scoring option Destiny Rice only scored twice out of two shooting attempts also.
But thanks in large part to the Wheaton and Johnson duo, as well as Makayia Hallmon's add-on scoring, the Cajuns shot an incredible 60 percent from the field in the second half to fend off a constant effort while visiting Texas State.
"The first half just didn't fall," said Wheaton, who scored a high 26 points on 9 of 16 shots from the field. "We just had to start pulling our punches because we were forcing him right at the start. Then the second half, they were just falling. So we continued to take our photos.
"After seeing the first shot come in and then the second, it gives you confidence to keep shooting. "
Johnson made 10 of his 14 shots to score 25 points, as well as two rebounds and three steals.
Hallmon added 16 points as UL's third double-digit goalscorer.
"We have been patient," Brodhead said. "They were trapping us and we were kind of holding the ball for some reason in the first half. We started letting them start to come and trap us and we pushed him back and started attacking. It created some jump shots that we really love. May-May (Hallmon) was 16 and I thought Tamera had done a good job finding her shot.
It was not a 3 point shot. In fact, UL only did four of the 17 tests behind the arc. He had 20 points on 20 Texas state turnovers and allowed the short jumpers to shoot 50.8 percent of the field for the game.
"Lanay is just a great jump shooter," said Brodhead. "That's kind of what we're recruiting, not just a 3 point jumper, but we want that jump shooter who can lead and shoot the shot from the free throw line or maybe the short corner. It is kind of what it is.
Johnson also played a key role defensively. Texas State actually shot 51.9% for the game. At the start, the Cadiens struggled with Da'Nasia Hood, who finished with 20 points with guard Kennedy Taylor.
As a result, UL staff encouraged Johnson to "shade" more than usual over Hood.
"It was something that we had to make sure we had to involve the kids," explained Brodhead. "Tamera, you're going to have to shade… you are going to have to give up the aid (the defense)." It's difficult for her because she wants to help her teammates. But I thought that second half adjustment worked really well.
Another important aspect of UL's victory was Caira Wren's seven points in 23 minutes of play as he replaced Doucet, who was limited to 18 minutes.
"I think Caira Wren did a great job on the defensive end," said Brodhead. "She doesn't get a lot of credit because she doesn't score, but she can bounce back and defend.
"Why was Ty away, she did a really good job of keeping the track."