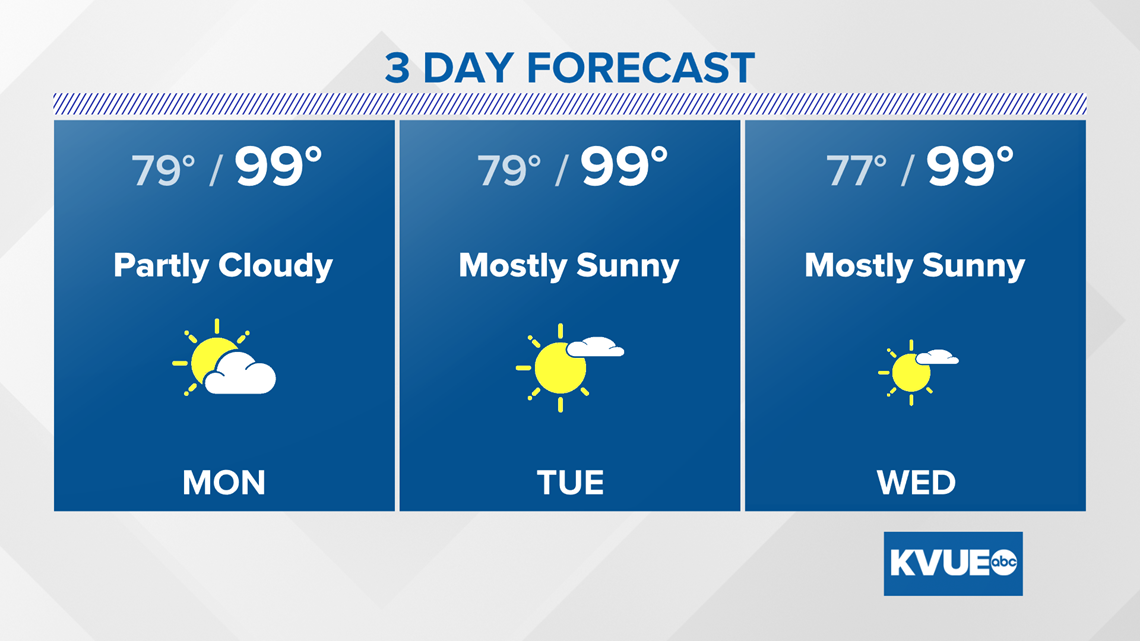 The heat and humidity throughout the week make it more likely to be August
Every afternoon this week will have highs in the upper 90s with triple-digit sensations like temperatures.
AUSTIN, Texas – After an unusually cool start to the month, a more typical August weather pattern has returned to central Texas. That means superior 90s every afternoon and no likelihood of major rain for the week ahead.
Another round of low clouds builds up overnight. The low clouds in the morning on Monday morning will then give way to mostly to partially sunny skies for the afternoon.
The humidity will remain throughout the week. Heat Index values ​​could reach 100-108 degrees each afternoon, with some areas as high as 110 along and east of Interstate 35. Make sure you stay hydrated and stay in. safety with the heat if you plan to be outside.
We won't see much change for the coming week. In fact, we have an even hotter trend. We are now in the hottest time of the year, where our average afternoon temperature is 99 degrees. We will be around that number for the whole week.
As the heat continues we have no signs of significant rain to cool off, but will bring back small chances of rain by next weekend. Right now we're only looking at a 20% chance of rain or less, so we don't expect much or no measurable rain for at least the next seven days.
The KVUE Storm team will continue to monitor this developing forecast.
In the meantime, the extended forecast can be found below: