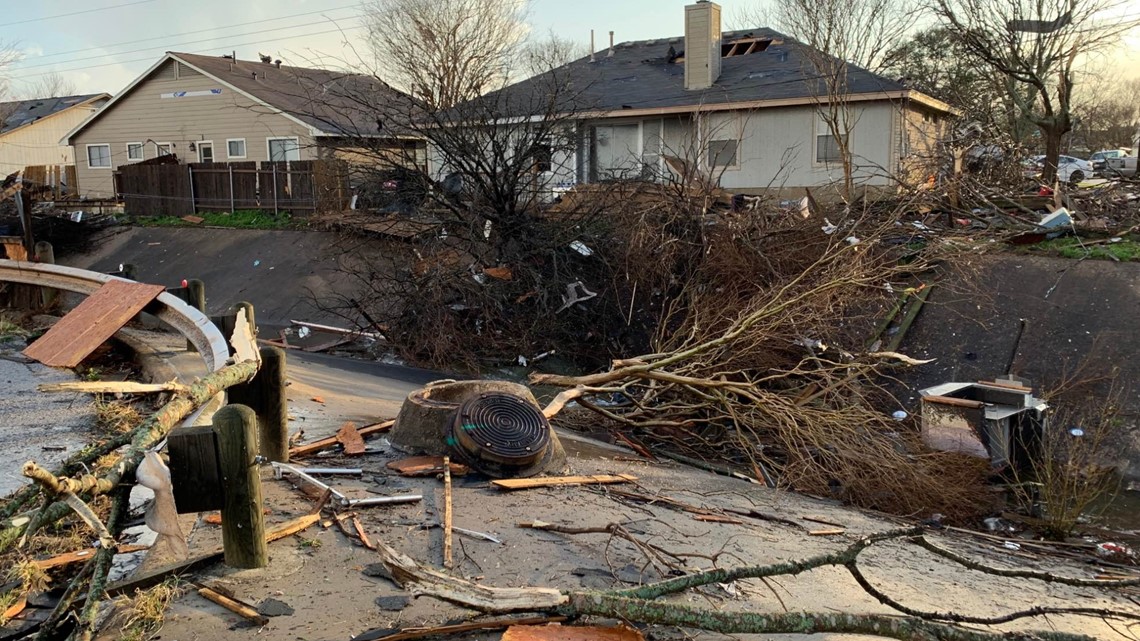 Multiple tornadoes confirmed in central Texas. Here is a preview of the photos and video
We are starting to see some of the consequences of the inclement weather in the Austin area.
AUSTIN, Texas – Multiple tornadoes were confirmed in central Texas as extreme weather conditions passed through the region Monday night, including Round Rock and Elgin.
KVUE cameras at the Kalahari Resorts in Round Rock captured footage of one of the tornadoes before it was directly hit by winds and knocked out.
At a Monday night press conference, Round Rock Police Chief Allen Banks said there had been no major damage to the Kalahari and it was in the process of reopening.
RELATED: Gas leak resolved after tornado passes through Kalahari Resorts in Round Rock
At this time there are no reports of fatalities or injuries, however we have confirmed that cars have been moved from their parking spaces and bark has been stripped from trees outside the complex.
Roofs were also seen ripped from homes on Thompson Trail and other areas of Round Rock.
Banks said there was "extreme structural damage" and "vehicle damage" observed. He said some buildings in the city had been damaged.
Banks said shelters were located at Round Rock Express and Redbud Elementary School.
The police chief asked people outside the area to stay away while they assess the damage.
Round Rock Mayor Craig Morgan also spoke at the press conference.
"We will use every resource as a city to recover, and we will recover because of you people," Morgan said. "All I ask for tonight is to kiss a loved one."
PHOTOS: Round Rock tornado damage
KVUE will continue to update this story with photos and video as new information comes in.
Watch live: Tornado Warning in Austin and parts of Hays and Williamson counties; 4 tornadoes possibly confirmed
Possible severe thunderstorms Monday afternoon and evening
LIST: Central Texas school districts announce early release due to potential severe storms