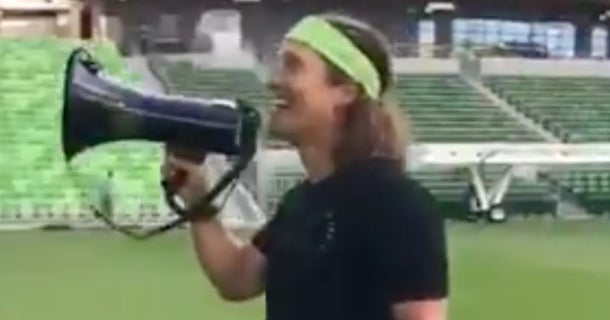 Matthew McConaughey leads vocals for Austin FC
Matthew McConaughey plays a big role in his hometown of Austin, Texas. Not only is the acclaimed actor the Minister of Culture at his alma mater, the University of Texas, he takes on the same role with the city's new football franchise, Austin FC, of ​​which he co-owns. And obviously he takes both jobs seriously.
Recently, McConaughey surprised a group of Los Verdes supporters as they practiced their chants inside Q2 Stadium. With a black Austin FC jersey and a green bandana wrapped around his head, McConaughey led fans in a few different chants inspired by a few of his movie roles.
See how the Oscar-winning actor chose to ignite the crowd in the video below. Instead of the traditional "Ole" chant, the Oscar-winning actor substituted a famous line he used in the cult classic, Dazed and Confused. Alright, this is awesome.
Matthew McConaughey leading chants of "alright, alright, alright" at the @AustinFC Thu ??pic.twitter.com/2JYr9JNQlV

– Bleacher Report (@BleacherReport) May 31, 2021
Founded in 2018, Austin FC is playing its first season in MLS as a member of the Western Conference. During "MLS is Back" media week, McConaughey discussed his goals for Austin FC, as well as his role as co-owner and Minister of Culture.
"For a team that is going to represent the city of Austin, I have to be there as someone who knows Austin very well, that the two are mirror images of each other," said McConaughey. "The team, the product that we put on the field and the experience of the fans in this stadium. My goal, as Minister of Culture, is to try to align [the two]. When you take a snapshot above Q2 Stadium on a particular night, you should be able to see the diversity, creative colors, and vibrancy of Austin, Texas in the crowd.
Get the fastest scores, stats, news, LIVE videos and more. CLICK HERE to download the CBS Sports mobile app and get the latest information on your team today.
After starting the year with a loss to Los Angeles FC, Austin FC managed to string together away wins against Colorado Rapids and Minnesota United FC before losing to three losses.
At 2-4 this season, Los Verdes fans recently practiced their chants in preparation for Austin FC's home opener against the San Jose Earthquakes, scheduled for Saturday, June 19 at 8:00 p.m. CT at Q2 Stadium.