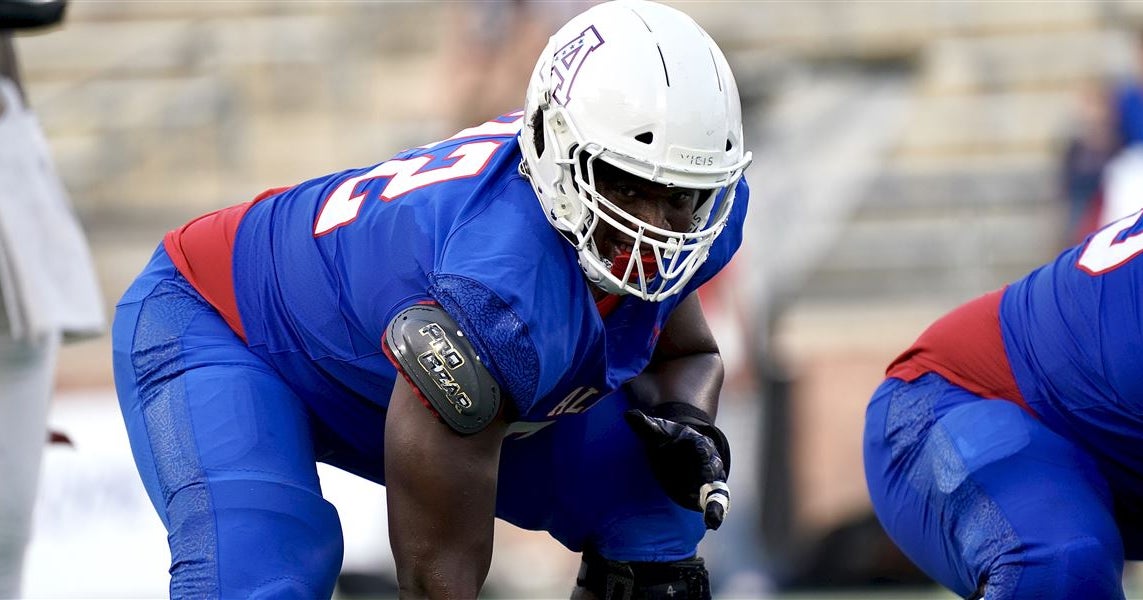 Longhorns continue scorching race to clinch four-star OL Neto Umeozulu
Kyle Flood continues to roll on the recruiting trail.
The Texas offensive line continues to strengthen as the Longhorns added a commitment of Neto Umeozulu. Allen's four-star offensive lineman is one of the state's most physical prospects, and he chose the Longhorns over offers from Alabama, USC, Oklahoma, Texas A&M and many more.
A three-year participant in the powerful Dallas schedule, Umeozulu was named Under Armor All-American and in 2020 he won the District 5-6A offensive lineman of the year award. Texas pursued Umeozulu harshly throughout the cycle, and while it sometimes felt like they were missing, the link Kyle Flood was able to create with him finally conquered him. This recruiting victory is huge for the continued growth of the offensive line, but it also places Texas in a good position for its younger brother. Zina Umeozulu which is already proving to be a great hope in the 2024 class.
At 6-foot-4 and 285 pounds, Umeozulu is ranked seventh in the nation's offensive inner lineman and 23rd overall in Texas, according to 247Sports Composite.
Umeozulu joins new five-star tackle Kelvin Banks, three-star tackle Cameron Williams and long-standing engagements Connor robertson and Cole hutson that the offensive line group is committed to Kyle Flood. The Longhorns continue to pursue other offensive lineman targets, including four-star offensive lineman Atascocita four-star. Kam DewberryFederal Way (Wash.) four-star offensive lineman Todd Beamer Malik Agbo and Arlington Bowie five-star offensive lineman Devon campbell.
What's next for the Longhorns? Make sure to stay in the know and sign up for Horns247 today! EARLY SIGNING DAY SPECIAL: New members and current monthly members who move up to the year get 50% off your first year of Texas Insider Scoop OR one month Horns247 VIP Access for ONLY $ 1!
Texas are currently 23 entries in the 2022 Texas class – Humble (TX) Summer Creek five-star offensive tackle Kelvin Banks, Gardena (Calif.) Junipero Serra four-star quarterback Malik murphy, Aledo (Texas) four star security Bryan Allen Jr., Klein (Texas) Cain four-star running back Jaydon Blue, Four Star Spearman ATH Brenen thompson, Donaldsonville (La.) Four Star Catholic Ascension Defensive End J'Mond Tapp, Four Star Allen OL Neto Umeozulu, Four Star Port Arthur Memorial CB Jaylon guilbeau Four-star defensive lineman Hewitt (Alabama) Trussville Justice Finkley, Denton (Texas) Ryan four-star defensive back Austin Jordan, Galena Park (TX) Four-star North Shore defensive tackle Kristopher ross, Texarkana (TX) Texas High edge four star Derrick Brown, Marlin (TX) defensive tackle four star Jaray bledsoe, Southaven (Miss.) Four-star defensive tackle Aaron bryant, four-star offensive lineman Frisco (Texas) Cole hutson, Phoenix, Ariz. Brophy College Prep four-star defensive lineman Zac Swanson, Duncanville (Texas) three-star offensive tackle Cameron Williams, Arlington (Texas) three-star linebacker Martin Trevell Johnson, Austin, TX Westlake three-star offensive lineman Connor robertson, New Orleans, La. Cornerback Warren Easton Ronald Lewis, Henderson, Nev. Three-star Liberty athlete Anthony jones, Gilbert (Arizona) Williams Field two-star long snapper Lance Saint-Louis and kicker from Regents School in Austin, TX Will stone.